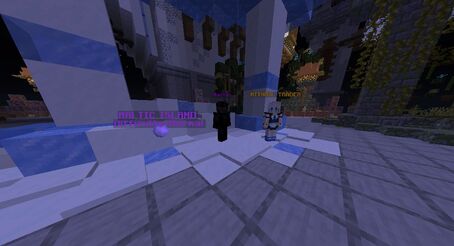 Gameplay
Maltic is the second dungeon available to players and features gear that can be used by newer and veteran players alike. It features the Wild Typhus Boss which is accessible via the tower at the end of the dungeon pathway. It requires a Maltic Scroll to enter, which can be received at the Trader NPC next to the Maltic NPC in exchange for High Nipheria Gear.
Enemies in this dungeon drop Bronze, which can be used to craft Silver, Gold, and eventually Platinum, each one costing 100 to craft the next level up. These are used to craft some armor and weapons, but is more commonly sold in the mall as a trade commodity, being sort of like a secondary currency for the server. It should be noted that the Wild Typhus Boss drops Silver when defeated, making it a more effective way of farming for Maltic drops
Most players agree that Maltic is also the best place for XP grinding, especially with the witches that spawn not too far into the dungeon dropping a lot of experience and being easier to kill in bulk due to the area's many choke points. However most higher level players farm the Wolves in the section before the Witches for some reason, despite them being harder to kill and dropping less XP.
Lore
Once upon a time in a snowy terrain infested with abnormally large spikes and glaciers, lived a small residence that lived their happy lives in tranquility and peace. Everything was going as the times went, and time passed as everyone enjoyed their satisfactory lives. Mortals there were joyous and satisfactory with what is given to them, very seldom would you hear sighs and grunts, it was a truly happy place.
Then unknowingly in a time that is not recorded, the sky grew dark and clouds soared quick, the kids ran to the houses and told their elders of what was going on, But little did they know this storm wasn't caused by the ordinary events of the planet... it was the mysterious aura of the Typhus and his army. With the evil inside that is overlapped by overwhelming charisma, the one called Typhus and his soldiers opened a their book and read the contents within that book, chanting sacred phrases and sentences that hinted the coming of a "new age". At that very moment the village guardian was present, a sharp and witty guardian who could sense danger from a mile away. But this great danger was merely meters away, and the guardian ran towards the magnifying but oddly familiar aura.
Arriving at the scene, he saw what he could never forget, he saw all his friends, family, and fellow warriors all kneeling down and praising his very own brother that he hadn't met in years. The guardian clenched his fists, gritted his teeth, and wielded both his swords, the swords of fire and ice. After a short wordless glare of disappointment and anger, the guardian rushed to fight what was once his close friend and sibling. Blow after blow, and hit after hit, soon one of the two incredible fighters would reach their limit. Unfortunately, after a short exchange of glares between the two, the guardian would wipe that poker face of his and show an immense expression of pain and exhaustion.. He kneeled down, let out heavy breaths, shed tears, and would soon be tortured by his own brother
Having killed the miserable but honorable guardian, Typhus picked up both his swords, and was grinning as he was absorbing both the powerful swords, with no regard of his brother whatsoever. With absorbing the sephiroth swords, came and even greater power within Typhus. And with all that power he grew larger and larger, hair started growing all over his body, he started to feel heavier on his upper body that would soon morph from humanoid position into that of a 4 legged animal. And after the mysterious and unexpected transformation, the once charming and handsome Typhus turned into a hideous beast, he let out an astonishing roar to show his people that he was the new king.
With the village being under Typhus' command, it remained very much the same, with the exception of it's inhabitants being under typhus' brainwash. the villagers there appeared to be the same welcoming and friendly villagers of the old village, but what's behind that warm smile was a corrupted mind. Villagers there would come into houses and kidnap people of all age and size, only to feed them to their king, their master, Typhus. This was the new revolution and was the coming of the new age, said Typhus. Typhus needed all the power he could get in order to obtain world order
a decade went by, Typhus got stronger and stronger after every mortal he devoured. The word of the village and it's "king" were spread out around the land, gossips and cries of the devilish "monster" were soon heard of and re-written as children folklores that were used to scare kids away from dangerous places. Mortals everywhere would try anything to put and end to Typhus, they would place huge amounts of gold for Typhus' head. Warriors soon heard of Typhus and they were thrilled by the challenge along with the prize money, they would enter the village with the hope of being able to take typhus down. Typhus also heard about him being wanted, and he was thrilled, he wanted to be able to guide these warriors into his "revolution".. He wanted them to aid him on his path to his "new age"
And so.. Will you put and end to his reign?
MOBS

[

]
Mob type: Wolf
Drops:
•Bronze
•1 - 3 XP Orbs
Mob type: Endermite
Drops:
•Bronze
•3 XP Orbs
Mob Type: Witch
Drops:
•Bronze
•6 - 8 XP Orbs
Mob Type: Ravager
Drops:
•Silver
•Money
•20 XP Orbs
ITEMS(TIER S)

[

]
ITEMS(TIER A)

[

]
ITEMS(TIER B)

[

]
ITEMS(TIER C)

[

]